Published
Introducing Upgraded Online Ordering
We have made recent changes to the online product configuration tools that you use for ordering French Rods and Fast Track traverse rod systems.
Effortless Customization
We now offer more options and an improved user experience with helpful guidance along the way. These new product configuration wizards for Fast Track and French Rods give you the confidence that what you order is what you get. Here's how:
Select Only the Options You Need

Choose the exact rod customization that you want.

Allow the Wizard to Help

Helpful hints along the way assist by answering questions and pointing out things you may not know.

Catch Mistakes Before Ordering

Our intelligent wizards continuously analyze your order as you are going through each step. You will be alerted to possible errors and given suggested revisions when we see something out of the ordinary.
Smart Guidance Along the Way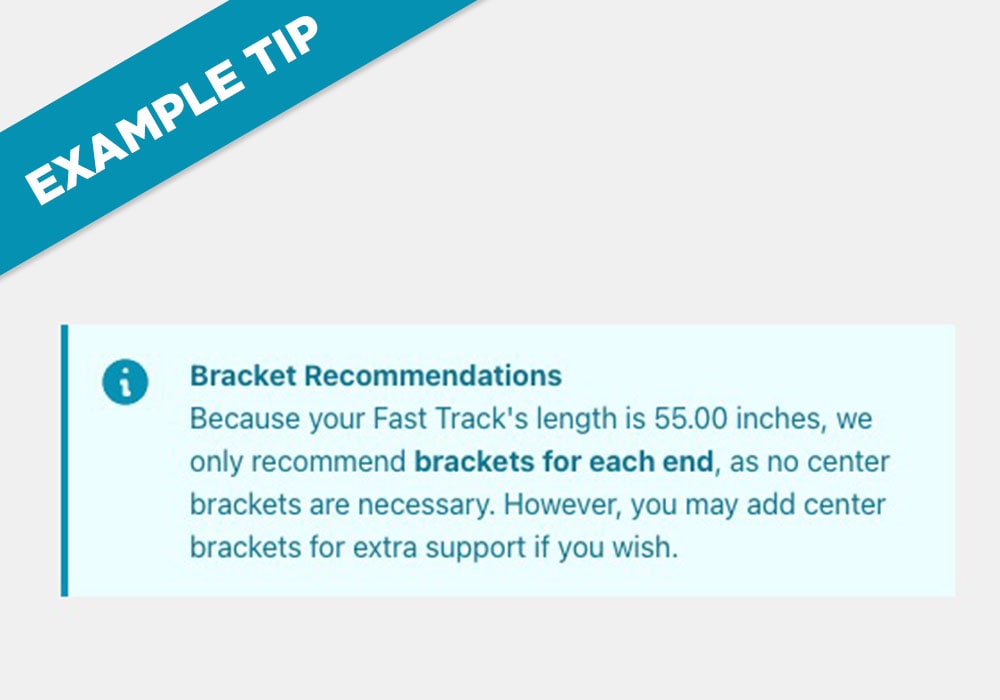 For most configuration options, helpful guidance is shown along the way. This guidance is based on both general recommendations and customized smart guidance based upon your prior selections.
For instance, the length which you select will determine the recommended number of brackets. Another example is your draw type — if you select center draw, we may recommend more batons than with single or one-way draw. Menagerie wizards are smart enough to understand your unique rod customizations, such as whether or not you've selected a single or double configuration, the type of brackets you've chosen, and much more.
Perfectly Matched Finishes
In addition to smart guidance, the finish you select at the start of each wizard is maintained — ensuring all of your hardware is perfectly color-coordinated. You run no risk of accidentally selecting different finishes for brackets!
Double Checking Your Configuration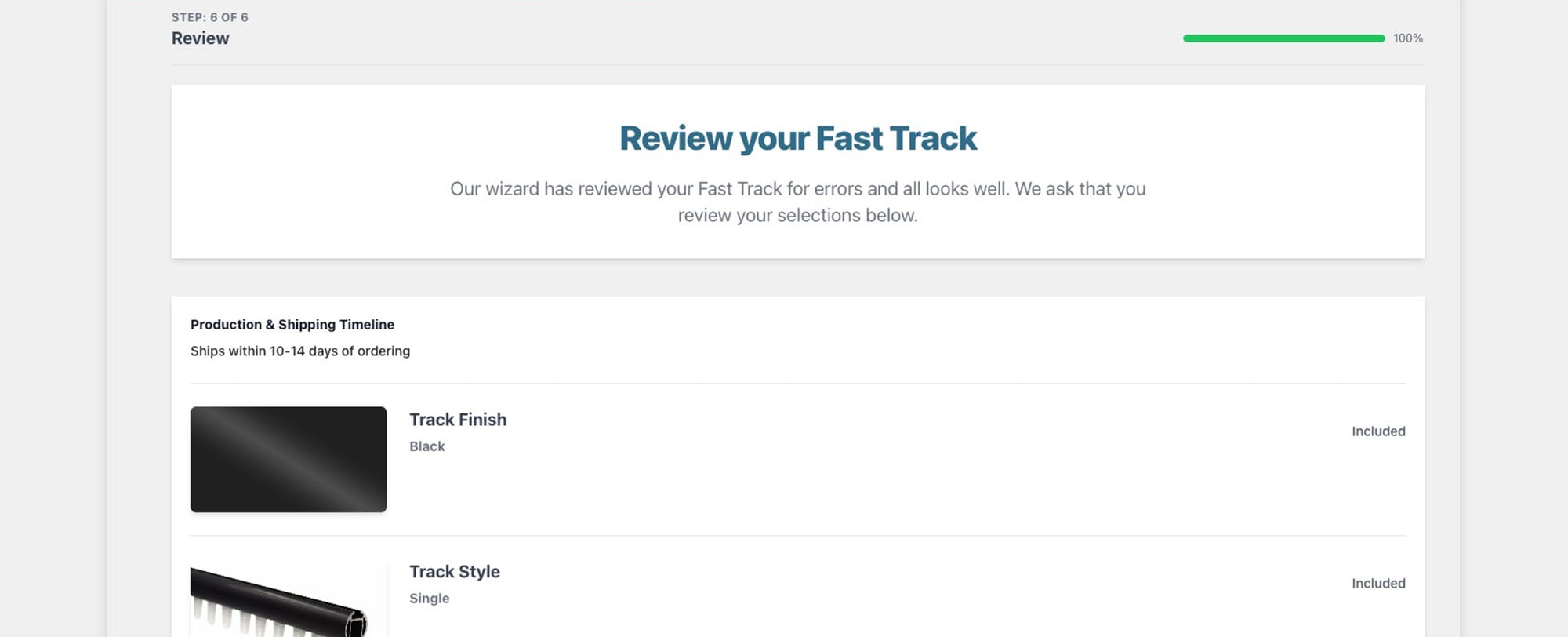 At the end, you're presented with a lineup of your selections where you can quickly review the options you've selected. If you'd like to make a change, you can go back and modify your prior selections.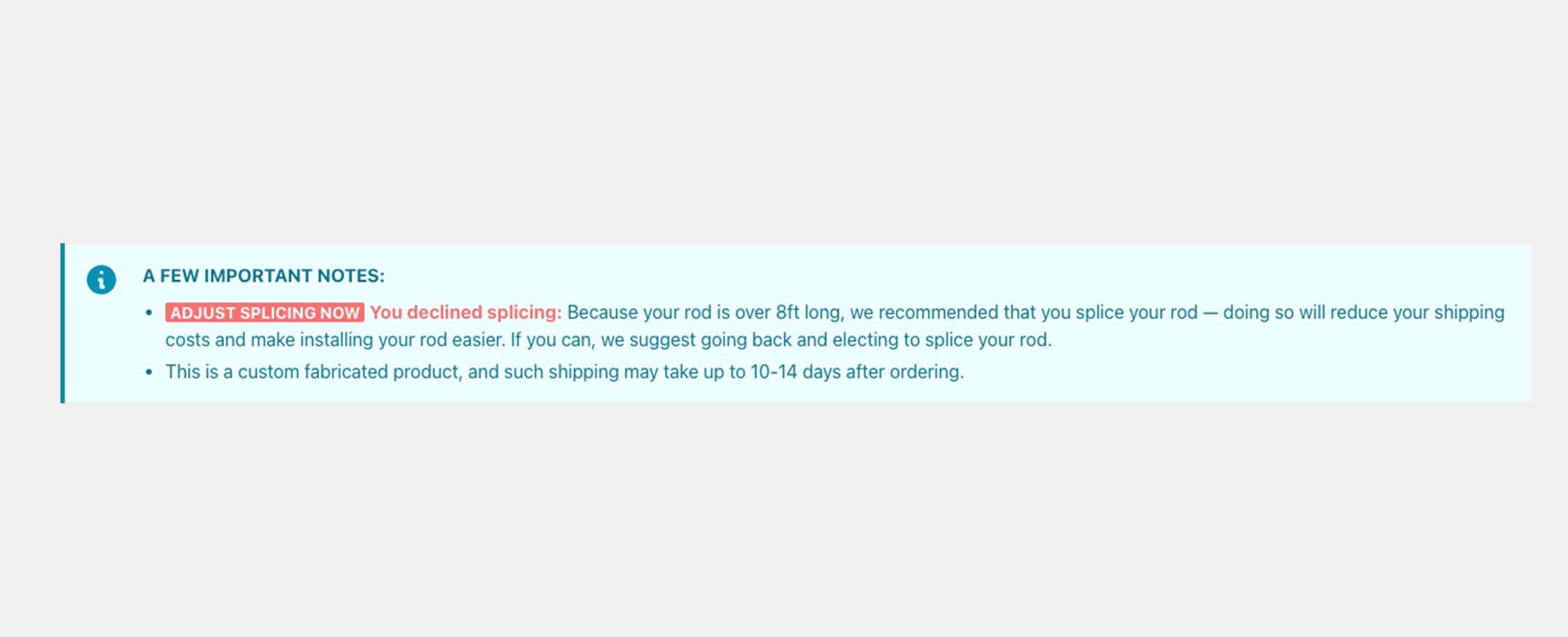 In certain cases, we'll provide notes to you about opportunities such as splicing a rod to make shipping cheaper and installation easier.
Of course, we offer live chat during business hours. If you have any questions while configuring your Fast Track and French Rod, you can always just ask us!
- - -
For more innovative window treatment options, along with coupon codes and discounts on Menagerie products, register today.