Published
Quality Fabrics: What to Look for in a Luxury Roller Shade
When it comes to luxury roller shades, the fabric quality makes all the difference. In this article, you will learn about the distinct types of roller shade fabrics and how to select the perfect fabric for your interior design needs.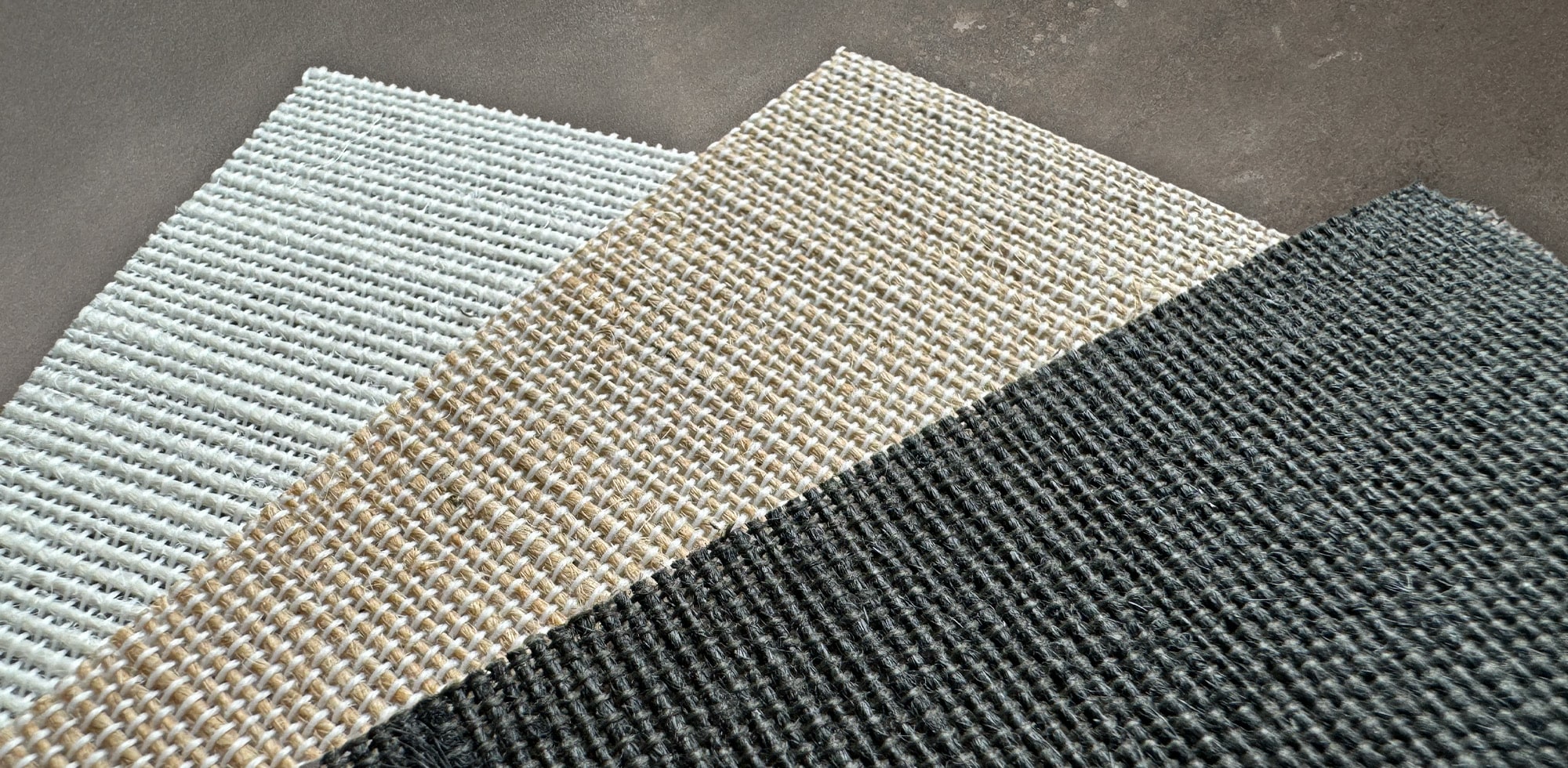 Fabric is the Essence of a Luxury Roller Shade
Roller shades are not just a window covering, but a statement of elegance and functionality. They blend effortlessly with modern and traditional interiors, providing control over light and privacy. The heart of luxury roller shades lies in the fabric used, which defines their appearance, functionality, and durability.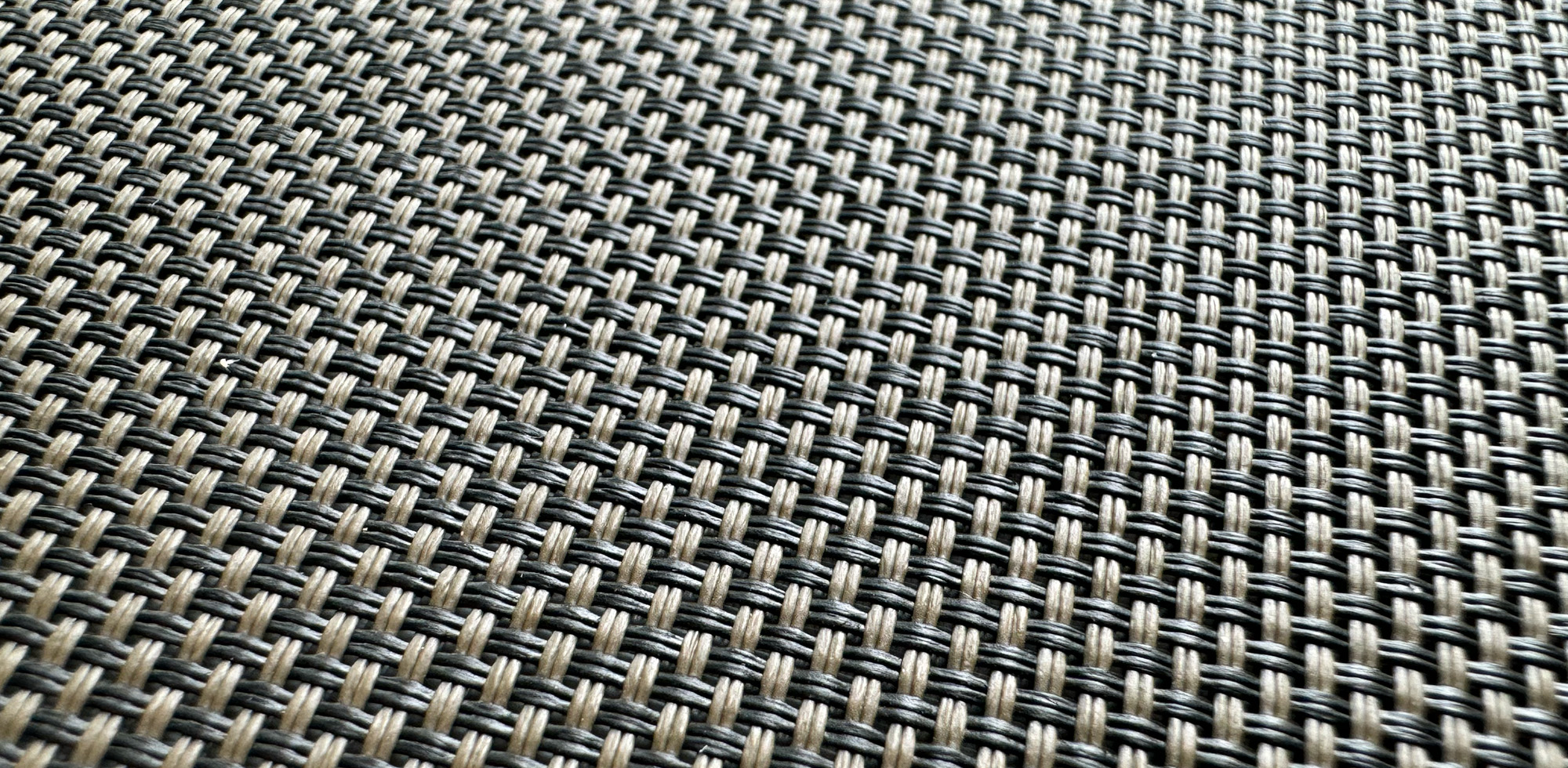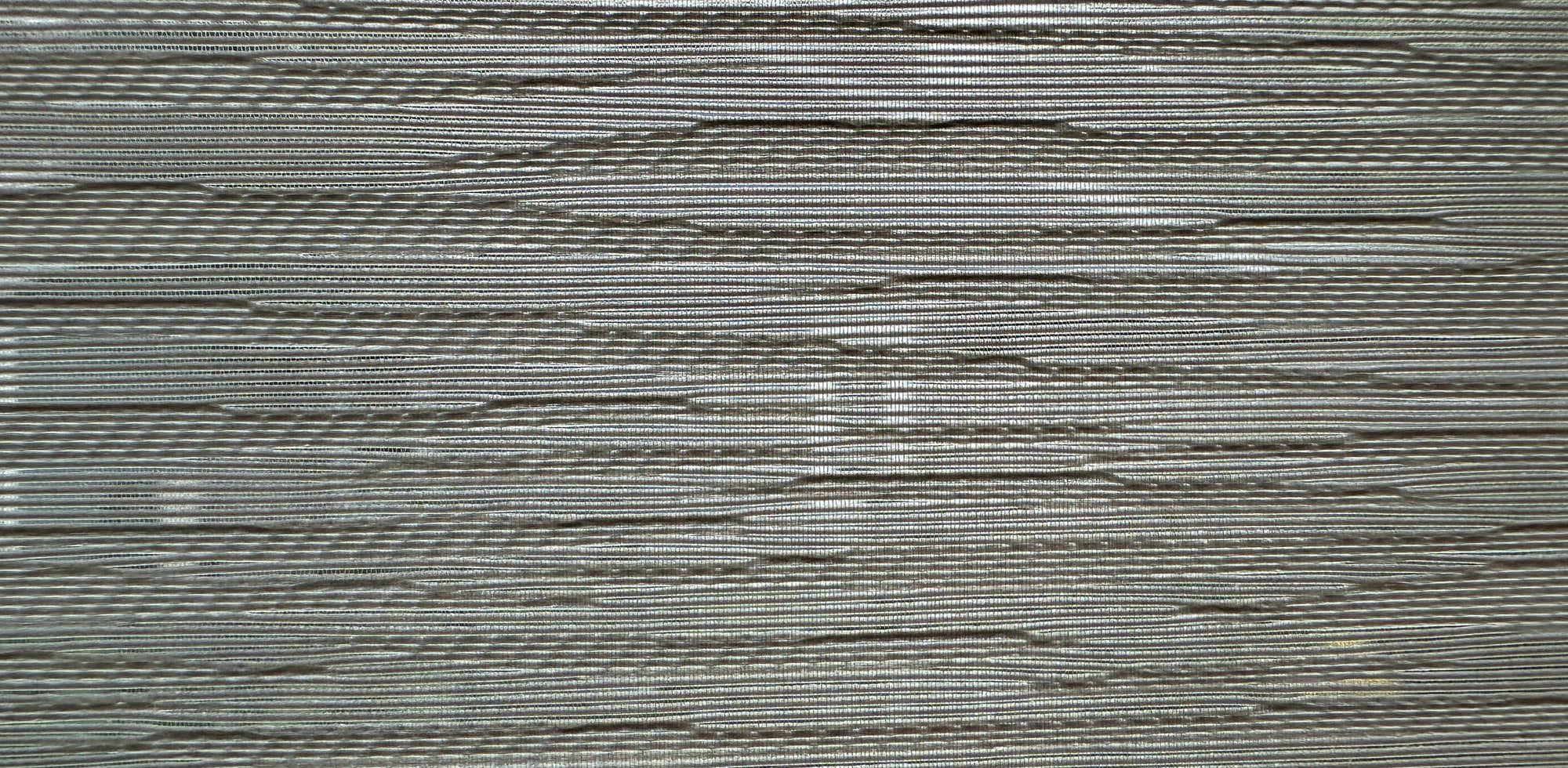 There are four types of roller shade fabrics - Light Filtering Fabric, Blackout Fabric, Solar Shade Fabric, and Natural Fabric, each with their own unique properties and the factors influencing the selection among them.
Quick Note on Fabric Examples: For a better view of our fabric, we recommend trying out our Roller Shade Wizard, where you can select from the various types of fabrics and view real-time previews of the fabrics,their unique designs, and light filtering, or blackout, capacities.
Selecting a Luxury Roller Shade Fabric
When it comes to adorning your windows, the choice of material is pivotal. The comparison between luxury roller shade fabrics and price-driven fabrics brings to light the stark difference in quality, aesthetics, and overall functionality. Luxury roller shade fabrics stand out for their superior quality, which is evident in their texture, appearance, and the way they transform a space. On the other hand, discounted fabrics sometimes shortcut steps in the production process and often fall short in providing both a refined look and feel that is synonymous with luxury fabrics.
Luxury roller shade fabrics are professionally crafted to offer a blend of aesthetics and functionality. They come in a vast array of textures, colors, and patterns allowing for a higher degree of customization to complement home interior design. In addition, they offer increased durability, light control, thermal insulation, and privacy — enhancing the comfort and ambiance of your space.
The lower price shade fabrics tend to have a more artificial appearance and feel, which may not blend seamlessly with your decor. Window glass environment fluctuations make these shades susceptible to cracking, peeling, and fading, and they can quickly lose their initial appeal. Thus necessitating a replacement far sooner than you would like. This won't happen with luxury shades.
Menagerie only offers high quality fabrics, such as those produced by Phifer (SheerWeave), Coulisse (Essential), and TOP (Orient).
Light Filtering Fabric
Light filtering fabrics are perfect for spaces where soft, natural light is desired without compromising on privacy. They gently diffuse daylight, creating a warm and welcoming ambiance. The texture and weave of the fabric play a pivotal role in determining the level of light filtration and privacy. Unique properties of this fabric include light diffusion while maintaining privacy, a variety of textures and colors, and the ability to reduce glare and UV rays to some extent. Light filtering fabrics are ideal for living rooms, kitchens, and dining areas. Those preferring a well-lit space with a soft glow would find light filtering fabrics appealing.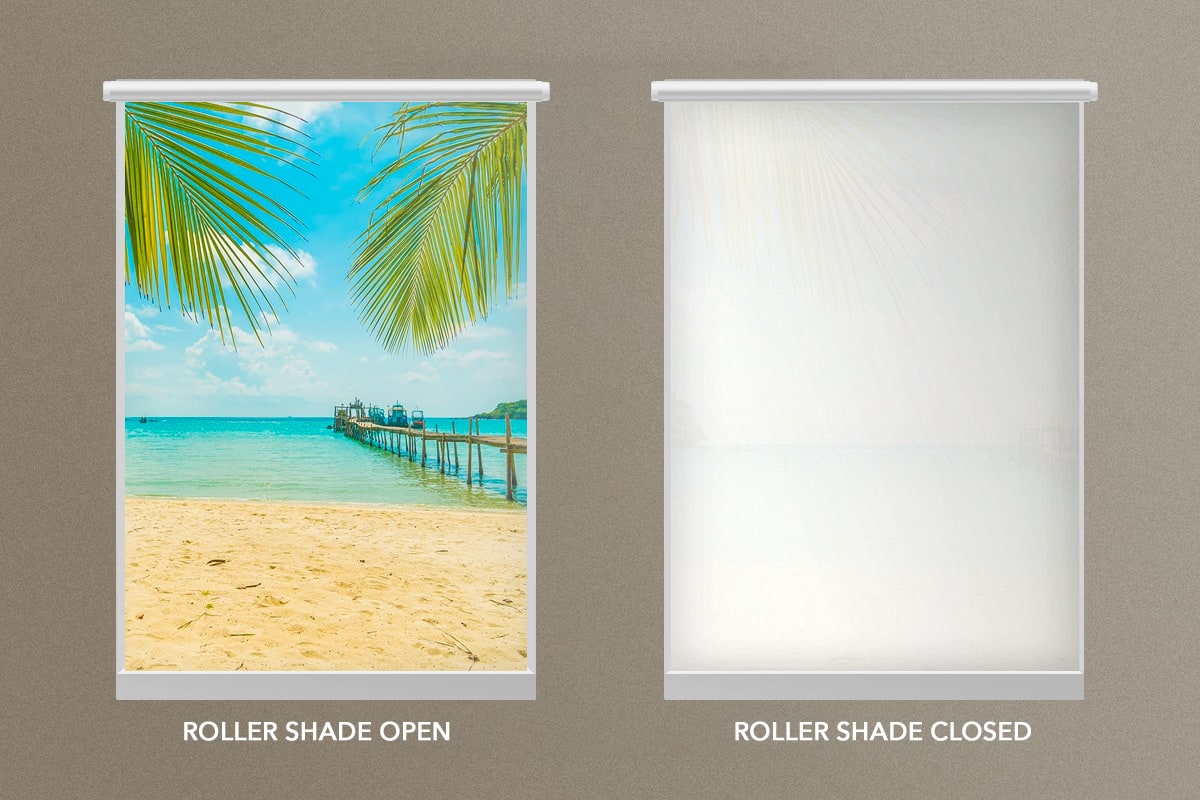 As you can see in the example above, light filtering fabrics provide excellent privacy while still allowing in some natural light.
Blackout Fabric
Blackout fabric is designed for spaces requiring complete light blockage, such as bedrooms or media rooms. It also provides thermal insulation, making it energy efficient. The unique properties of blackout fabric include blocking 100% light infiltration, providing thermal insulation, and offering maximum privacy. This fabric is perfect for bedrooms, media rooms, or any space where total darkness is preferred. Those living in extreme climatic conditions might prefer blackout fabrics for their insulating properties.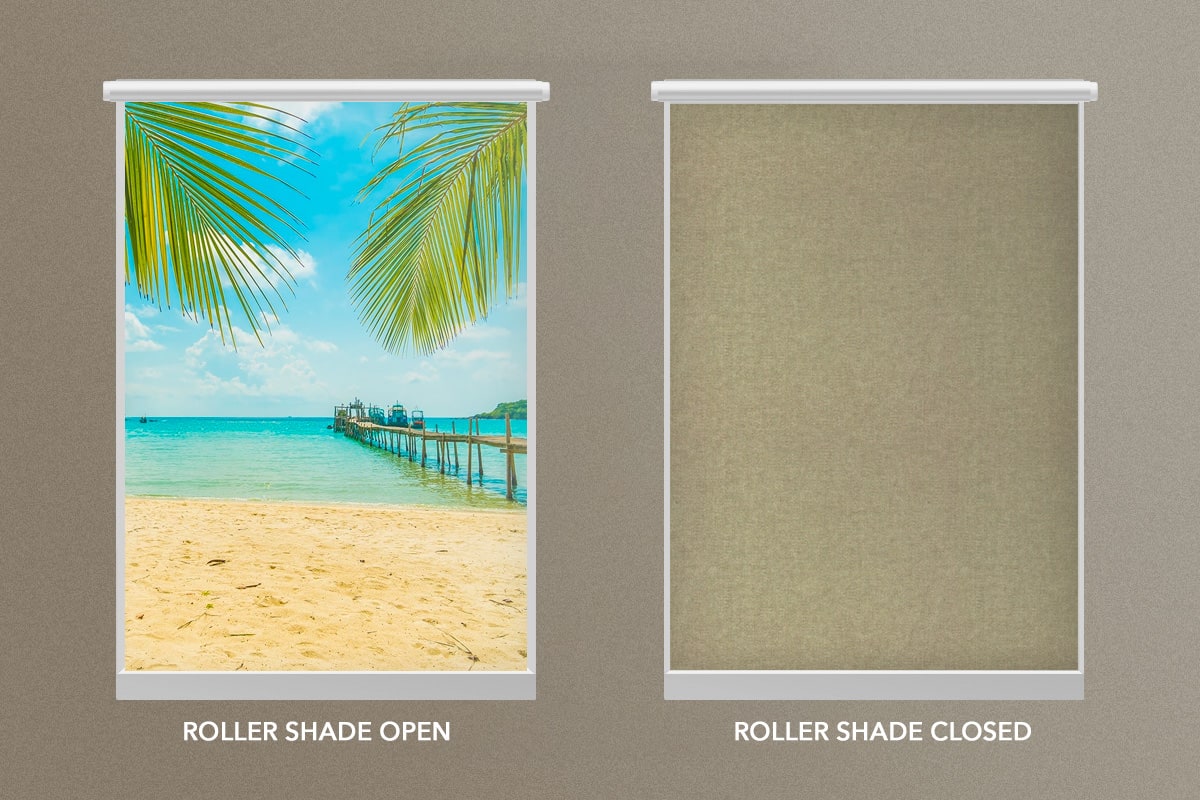 Unlike light filtering, blackout fabrics completely and fully block out all light and provide ultimate privacy.
Solar Screen Fabric
Solar screen fabric is tailored for reducing glare and UV rays while preserving the outside view. It's a go-to choice for sunrooms or spaces with a beautiful outdoor view. The unique properties of solar screen fabric include reducing glare and UV rays, maintaining an outside view, and availability in various openness factors to control light entry. The solar screen fabric is ideal for sunrooms, patios, or commercial spaces. It's perfect for those wanting to to enjoy the beauty of the outdoors while staying protected from the sun.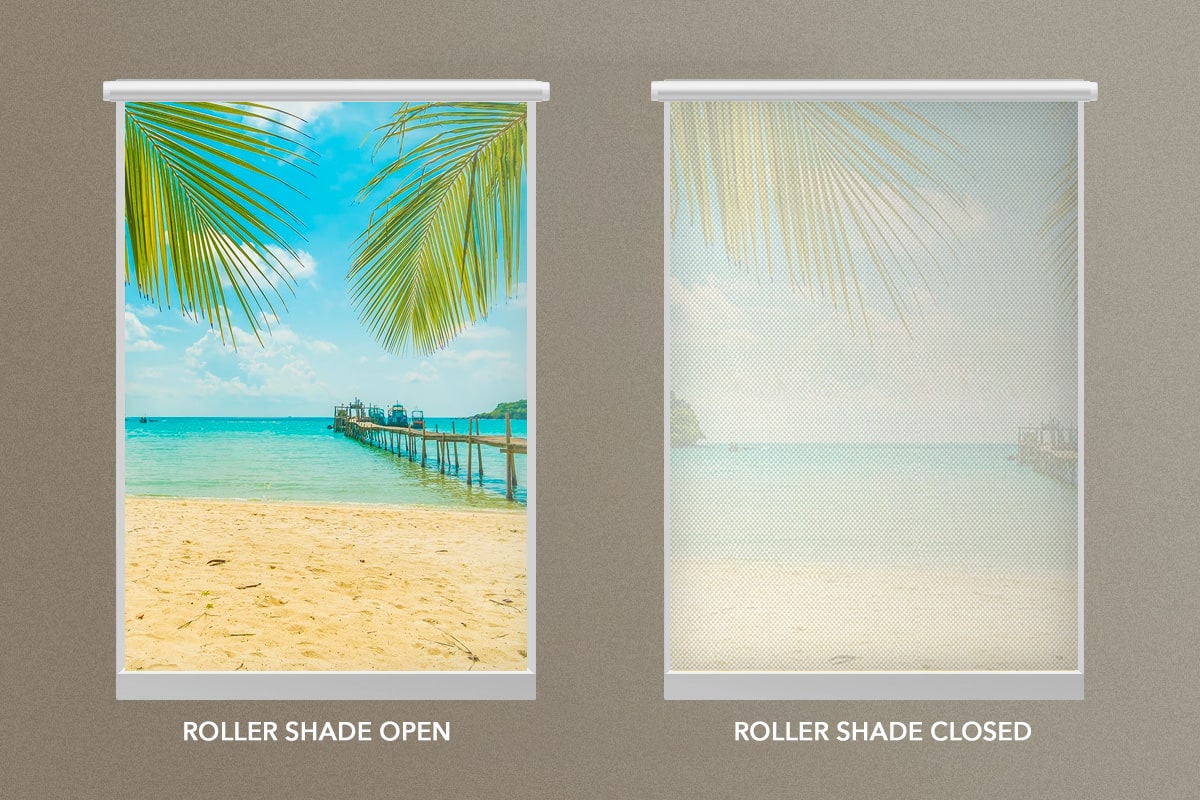 Depicted above is a solar screen fabric with 10% openness, the maximum openness available. Available openness options include 1%, 3%, 5%, and 10%. If you're interested in learning more about solar screen fabrics and seeing different openness level examples, our article entitled Window Shade Fabric Opacity Explained.
Natural Fabric
Natural fabrics are for those who prefer an eco-friendly and organic aesthetic. They are made from natural materials like bamboo, jute, or wood, and add a rustic charm to any space. The unique properties of natural fabric include being eco-friendly, having a unique, rustic appearance, and are available in a variety of textures and natural tones. The natural fabric is suited for individuals looking for an organic, eco-friendly choice and is perfect for creating a calm, serene ambiance in a room.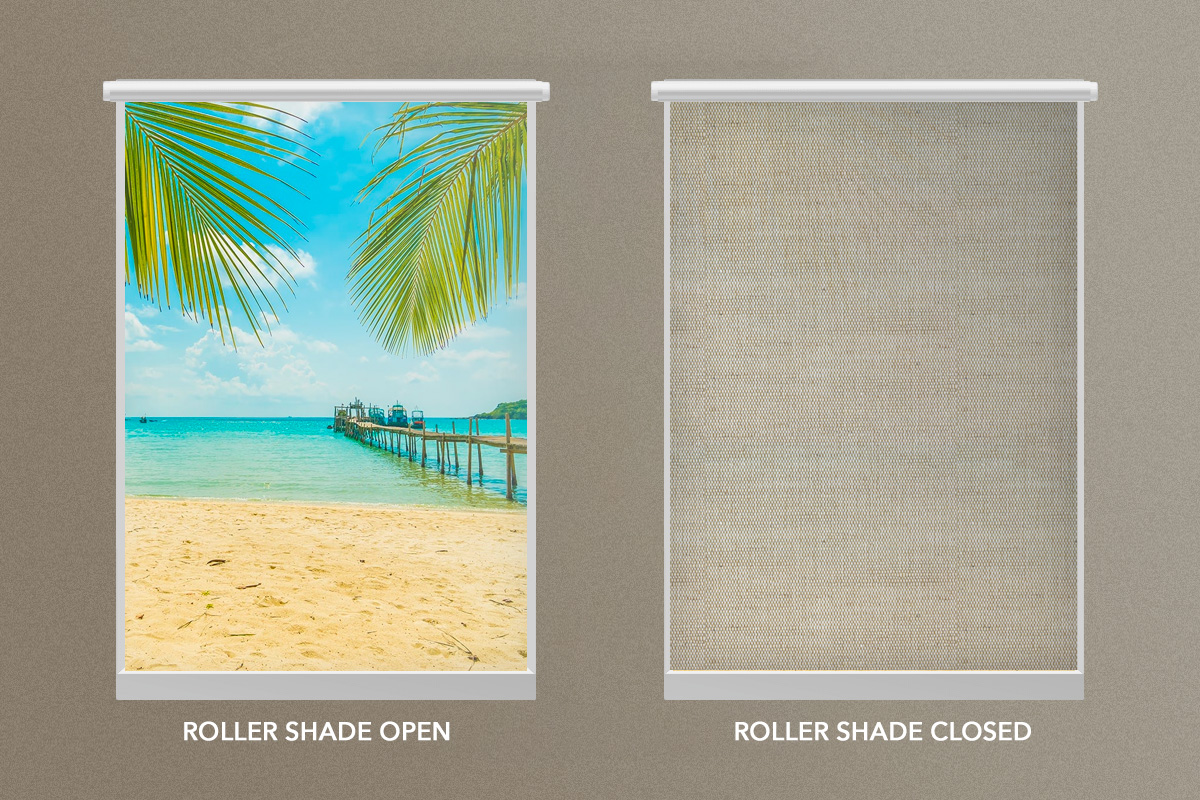 Natural fabrics are also light filtering, and depending upon the fabric can let in more or less light from other natural fabrics.
For Roller Shades, Fabric Quality is Paramount
Luxury Roller Shade Fabrics are More Durable
The durability and longevity of luxury roller shade fabrics are unparalleled. They are designed to withstand the test of time, resisting wear and tear, and maintaining their color and texture over prolonged periods. This durability makes luxury roller shade fabrics a more cost-effective choice in the long run. In contrast, cheaper fabrics may show signs of wear, such as warping or discoloration, much sooner, leading to frequent replacements and, ultimately, higher costs over time.
Luxury Fabrics for Roller Shades are Eco-Friendly
The eco-friendliness of luxury roller shade fabrics is another compelling reason to choose them over poorer quality fabrics. Many luxury fabrics are made from natural or recycled materials, making them a more sustainable choice. Furthermore, luxury roller shade fabrics are often produced with quality materials and specialized coatings that block UV radiation at a more optimal rate, resulting in more energy savings.
Lower cost price driven fabrics, on the other hand, fail to provide the same energy savings, contribute more to pollution during manufacturing, and as the fabric breaks down they can omit harmful chemicals into your indoor environment, posing risks to both your health and the environment.
Motorization and Luxury Roller Shades
Increasingly, more consumers are expecting a pairing of luxury and convienence. To that end, Menagerie Roller Shades utilize the industry-leading Coulisse™ Absolute 2.0 roller, which can be paired with a selection of Somfy™ morotization options — inlcuding both battery-powered and plug-in motorization options to fit your exact needs.
Certified Best for Kids™ Roller Shades
Not only does Menagerie offer the best luxury roller shade fabrics available on the market, with the highest quality Coulisse™ components and Somfy™ motors, we also offer both cordless and motorized options which are Certified Best for Kids™ by the Window Covering Safety Council.
Customize Your Luxury Roller Shade
With a wide selection of high quality fabrics, Menagerie Roller Shades a sound choice for any space. Our Roller Shade Wizard is intuitive and will guide you as you customize your roller shade to your exact specifications, including fabric, motorization, and more.
Protected Shipping — All Menagerie Roller Shades are custom fabricated in 10-14 business days and shipped in a thick double wall corrugated box.
Arrives Assembled — Your Roller Shades arrive assembled and ready to be installed.
Hardware Included — All shades are packaged with instructions and all mounting hardware.
Sidemarked — Your Roller Shades arrive side-marked with the name of the window(s) where they will be installed.